---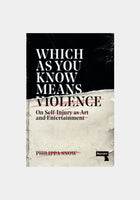 A few weeks before he died, Hunter S. Thompson left an answerphone message for Jackass' Johnny Knoxville. "I might be coming to Baton Rouge," he told the stuntman, "and if I do I will call you, because I will be looking to have some fun, which as you know usually means violence."
Fun does not, of course, usually mean violence; those who choose to make a hobby, a career or an art practice out of injury are wired a little differently from most. In Which as You Know Means Violence, Philippa Snow — taking in the work of Buster Keaton, Marina Abramović, Jackass, Gina Pane, Bob Flanagan, Chris Burden, and various YouTube stunt performers — analyses the subject of pain, injury and sadomasochism in performance, from the more rarefied context of contemporary art to the considerably less rarefied context of a TV show where grown men hurl various objects at each other's tenderest parts.
In a world where violence — the violence of climate change, say, or of capitalism — is part of our daily lives, Which as You Know Means Violence focuses on those who enact violence on themselves, for art or entertainment, and addresses the role that violence plays in twenty-first century art and culture.

Published by Repeater, September 2022. 
***
Philippa Snow is a writer based in Norwich. Her reviews and essays have appeared in publications including 
Artforum, The Los Angeles Review of Books, ArtReview, Frieze, The White Review, Vogue, The New Statesman, The TLS
, and 
The New Republic
. She was shortlisted for the 2020 Fitzcarraldo Editions Essay Prize.