---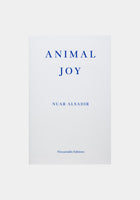 Laughter shakes us out of our deadness. An outburst of spontaneous laughter is an eruption from the unconscious that, like political resistance, poetry, or self-revelation, expresses a provocative, impish drive to burst free from external constraints. Taking laughter's revelatory capacity as a starting point, and rooted in Nuar Alsadir's experience as a poet and psychoanalyst, Animal Joy seeks to recover the sensation of feeling alive and embodied.

Writing in a poetic, associative style, blending the personal with the theoretical, Alsadir ranges from her experience in clown school, Anna Karenina's morphine addiction, Freud's unfreudian behaviours, marriage brokers and war brokers to 'Not Jokes', Abu Ghraib, Fanon's negrophobia, smut, the Brett Kavanaugh hearings, laugh tracks, the problem with adjectives, to how poetry can wake us up. At the centre of the book, though, is the author's relationship with her daughters, who erupt into the text like sudden, unexpected laughter. These interventions – frank, tender, and always a challenge to the writer and her thinking – are like tiny revolutions, pointedly showing the dangers of being severed from our True Self and hinting at ways we might be called back to it. A bold and insatiably curious prose debut, Animal Joy is an ode to spontaneity and feeling alive.
"To read Animal Joy is to become alive to the condition of wakefulness in the world. This spectacular achievement by the psychoanalyst and writer Nuar Alsadir provokes and destabilizes our understanding of a life's competing narratives. I can think of no other contemporary work of nonfiction that brings together autobiography, a learned history of psychoanalysis, lyrical poetics, ontological investigations of our attempt to manage our own feelings, with such astute engagement. This is a work that will change conversations about who we are, what we think motivates us, what makes us us. The meeting place of the intentional and the unintentional erupts in Animal Joy in order that we might reinvestigate our incoming thoughts and feelings with a sense of vigor and curiosity. If you are open to introducing "tiny revolutions" of thought into your life by resisting received and uninterrogated scripts, read this book."
— Claudia Rankine, author of Citizen
Published by Fitzcarraldo Editions, August 2022.