---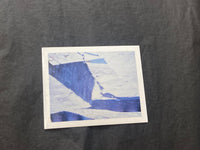 Since the 90s, Mark Borthwick has revelled in the fragility of analogue film and the opportunities it brings to incorporate chance into the image-making process. His Polaroids reflect this with a tangible immediacy. Signed on the back 'Love Mark x'.
Borthwick was born in London but lives with his partner, fashion designer Maria Cornejo, in Brooklyn, New York, where they have been based for more than 20 years. The early '90s were spent in Paris where he bought a nightclub and began making photographs for Purple magazine, which was founded there in '92. Music, travel, food, song, poetry and image are for Borthwick a creative and meaningful continuum.. Chance, beauty and the natural world are the tenets by which he lives and makes work.
In 2015, we were lucky to host the launch for Mark's now out-of-print limited edition book, Africa, published by Jane&Jeremy. This is when he bestowed us with the beautiful set of Polaroids we have for sale now at Claire de Rouen.